previous conferences
May 6-10, 2019
Emergency Obstetrical Skills (GESTA)
Haiti's only midwifery school: Institut National Superieur de Formation Sage Femme (INSFSF) will host FAHM's 4th Annual Midwifery Conference presented by SHOG (Society of Haitian Obstetricians and Gynecologists). Twenty-six midwifery students and 4 practicing midwives will be taught emergency obstetrical skills: didactic as well as use of a simulation lab where they can practice and perfect their skills.
2018 Midwifery Continuing Education Conference: Midwifery and Women's health.
March 22, 23,24, 2018 in Petit Goave, Haiti.
Presented in partnership with L'Association Infirmière Sage Femme d'Haiti (AISFH), GoDocGo, Community 2 Community (C2C) and with the support of Every Mother Counts and Rona Jaffe Foundation. Haitian professional midwives in attendance received training in the most updated, evidence-based cervical cancer screening and treatment, STI-screening and treatment, gynecological care and family planning. The conference included the screening and education of over 70 women from the Petit Goave community.
Professional Midwives and Nurses Reviewing Case Studies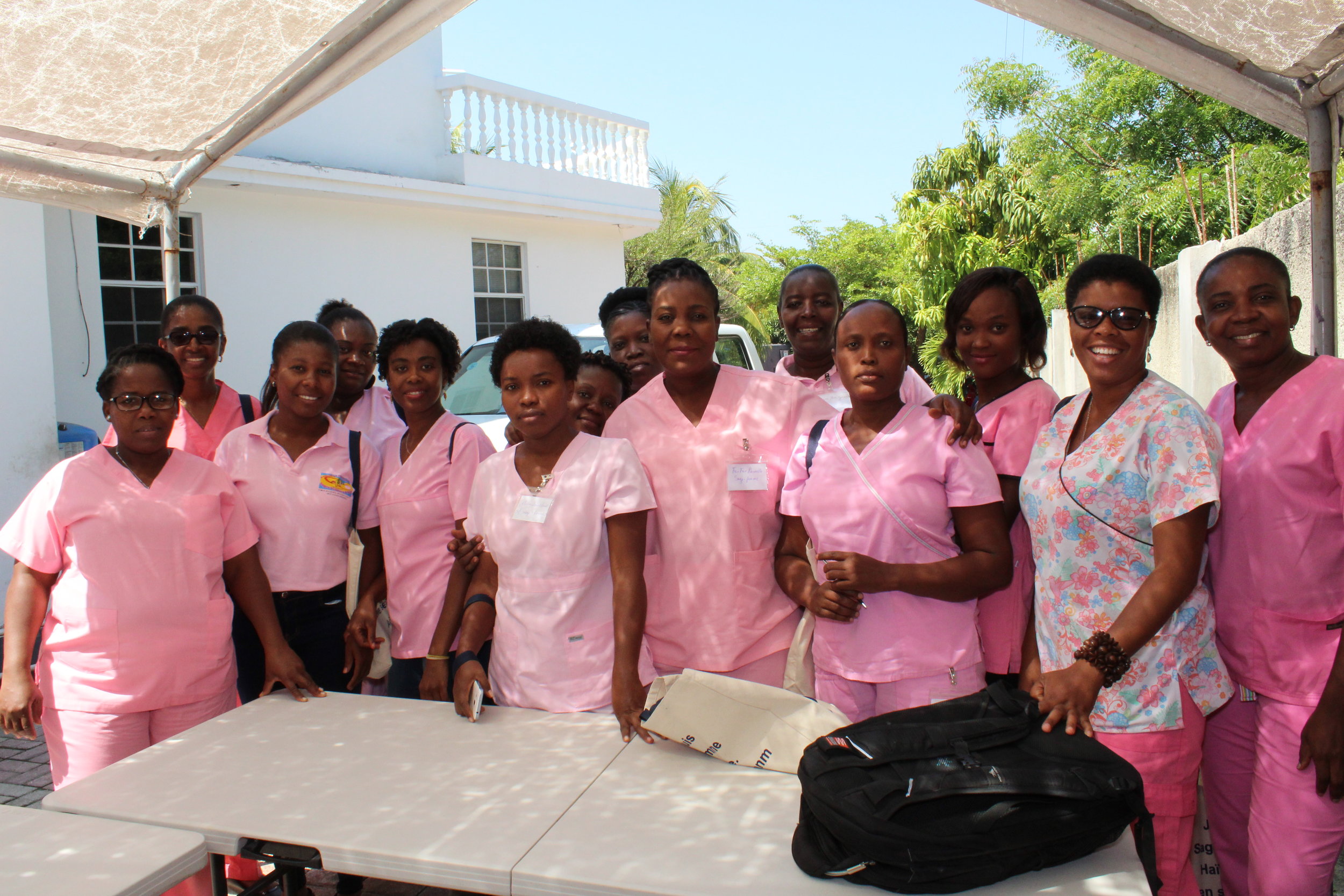 Ready to screen over 70 women in the Petit Goave Community.
March 30-31, April 1st, 2017
FAHM 2nd Annual Educational Conference: Midwifery and Women's Health
Presented in partnership with UNFPA, L'Association Infirmière Sage Femme d'Haiti (AISFH), and Institut National Superieur de Formation Sage Femme (INSFSF), Haiti's only professional midwifery education program.
Midwives are often a woman's only medical provider. Midwives care for women throughout their life cycle. This year's conference will highlight evidenced based gynecological and obstetrical care:
Breast and cervical cancer awareness, screening and treatment

Women's reproductive health:

Family planning (IUD insertion/ implants,etc.)

Nutrition

Pregnancy & birth: "The fourth stage of labor" (skin-to-skin, delayed cord clamping, patient- centered care)

Professional issues in midwifery
Cervical cancer is the second most common cancer among women. WHO's (World Health Organization) strategy to prevent and control cervical cancer is based on community education, prevention and screening of precancerous lesions.
FAHM is pleased to be working with Innovating Health International (IHI). IHI has been providing training as well as public awareness for breast and cervical cancer in nearly a dozen countries in Central and South America and Africa. They have been working along side the Ministry of Health (MSPP) in Haiti since 2004. They will be providing intensive training in community outreach/awareness as well as screening with VIA (visual inspection with acetic acid), and treatment of identified lesions through cryotherapy (known as SEE AND TREAT).
The purpose is three-fold:
To provide continuing education highlighting the latest evidence-based research

To promote the midwifery model of care in Haiti

To provide space for networking and strengthening professional midwifery associations in Haiti
March 2-4, 2016
FAHM 1st Annual Educational Conference
Presented in collaboration with UNFPA, MSPP, Institut National Superior de Formation Sage Femme (INSFSF) Haiti's only midwifery education program, and L'Association Infirmière Sage Femme d'Haiti (AISFH), FAHM sponsored its first ever three day midwifery conference in Haiti.

The purpose was three-fold:
To provide continuing education highlighting the latest evidence-based research for currently practicing midwives and midwifery students currently enrolled at INSFSF

To promote the midwifery model of care

To provide space for networking and strengthening professional midwifery associations in Haiti